Directions to Montesano


Racers collect raffle winnings from the KDUX Radio DJ

To Montesano and Lake Sylvia State Park (Race Headquarters & start of XC Race):
From I-5 North or South, take EXIT 104 at Olympia (Aberdeen-Ocean Beaches) and go straight West
to Montesano (approximately 35 miles). Take the Montesano/Raymond EXIT. Turn Right at offramp
Stop Sign onto Main Street. Turn Left at the first Stop light (Pioneer). Go Straight to 3rd Street.
Turn Right on 3rd, which goes straight, then winds, and ends at Lake Sylvia State Park.
Follow signs to Parking and Registration areas.
North on 3rd To Lake Sylvia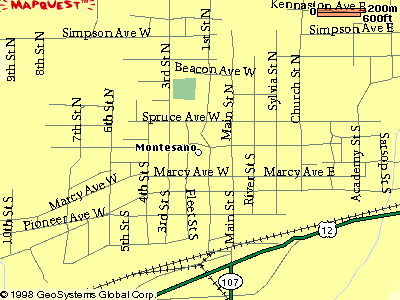 Hwy 12 from Olympia
Hwy 107 From Raymond
To Grouse Ridge (Site of Registration, Check-in and Start of Downhill Race)
Directions to DH Course from Lake Sylvia:
1. Follow Lake Sylvia Rd. to 3rd St. (1 mile)
2. Go down 3rd straight at stop light to Pioneer (0.6 mi).
3. Turn left onto Pioneer.
4. Follow Pioneer east thru town, where it becomes Monte-Elma Rd. (3.0 mi).
5. Turn left onto Camp Creek Rd.
6. After 0.3 mile, go straight onto gravel road.
7. Follow gravel road 4.3 miles to course and parking.
NOTE: Gravel road is a primitive road, 20 mph please!
---